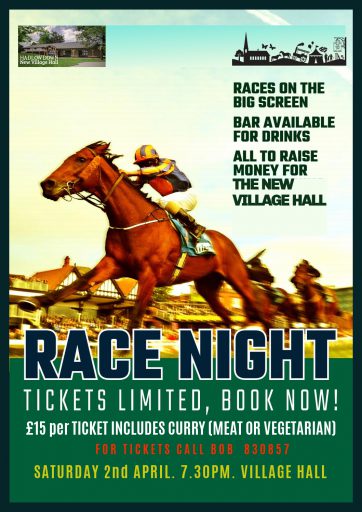 The New Village Hall Committee are delighted to announce that "Race Night" will be going ahead on Saturday April 2nd at 7.30pm in the Village Hall. We do hope that you will join us for a really fun event, including a curry* and a chance to bet on the races. Tables will be made of eight at £15 per head. You can either buy a whole table or individual tickets. This event is being held to raise funds for our new Village Hall, there are lots of ways you can support us –
Sponsor a race for £50 and name the race!
Become a race horse owner, only £5 per horse. There will be prizes on the night for the winning owners.
Bets will cost £1 per horse, prize money will be shared equally between the winners and the HDCC
Tickets are £15 per head and include a bowl of *curry and rice
There will be a licensed bar

For more details, to buy tickets and or to pledge your support please contact Bob on 830857 bob.lake@live.co.uk
 *vegetarian/vegan option available, please pre-order with your ticket