The Big Village Picnic has now been cancelled as a mark of respect given the recent sad announcement of the Queen's death.
The Village Fayre Committee are pleased to be hosting
The Together We Can
Big Village Picnic
at 12 noon on Sunday 11th September, Hadlow Down Playing Field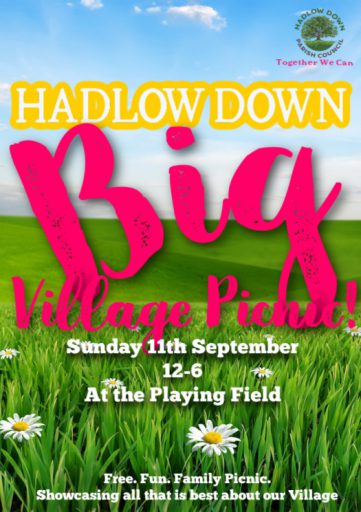 A free community event for Hadlow Down Residents. Bring your own picnic and seating or book a fancy picnic table, in the comfort of our beautifully decorated canvas marquee. Gates will open at 12pm. Many of our Village Associations will be there offering refreshments and entertainment. We hope you will join us and meet with neighbours old and new for an afternoon of fun. Karaoke and open mic spots will run from the Pavilion stage later in the afternoon. Families can either bring their own picnics and enjoy the event and music or alternatively, simply turn up as food and drink will be available to purchase at the event.
Our aim is to bring everyone together again post pandemic. Perhaps you would like to find out more about what goes on in the village! Are you a newcomer? Hadlow Down is a wonderfully vibrant community with lots of lovely outdoor spaces, clubs and societies. This is your chance to see what we are all up to and join in if you'd like to. A fun afternoon celebrating what a great village we are, introducing newcomers to all that we have to offer and hopefully generating interest for more people to get involved
Big Village Picnic FAQ's
Do I need a ticket?
No, this is a free community event funded as part of the *Together We Can initiative for local residents to enjoy.
*The Parish Council is funding The Big Village Picnic through a grant secured from the National Lottery
Is there parking at this event?
There is limited free parking at the Playing Field. Please walk to the event if possible.
What time does the Event start?
12 noon
What time does the event finish?
6 pm
How much is a Fancy Picnic Table?
Bookings are £15 per table, each table seats up to 6.
Each booking includes a dressed table and 6 chairs in the marquee. Tables will be allocated on a first come first served basis. All proceeds will be donated to the New Village Hall.
For table bookings and enquiries please contact Mandy mandy.chapman45@googlemail.com
Can I perform my own song as part of the open mic?
Please contact Pete to discuss your backing track and any other requests for the open mic session
strevens68@gmail.com
What else will be at the event?
Tea and cake – run by EnGage TN22 Clubs
Botanical Pimms Stall – run by the Horticutural Society
"Walk on the Wild Side" launch – by the Playing Field Committee
St. Mark's School and Wings to Fly – Craft Activities
Harveys Stall and Prosecco Bar – run by the New Village Hall Committee
Kit Wilson Trust
Together we Can, Time Pledging  – run by Village Fayre Committee
Karaoke and Open Mic from 3pm – contact Pete for more details
Street Food and lots more!
Connecting people to the Village we live in is key to the survival of our community life. We hope to inspire some of you to become a "Village Maker". Our initiative is a simple one, can you spare a few hours to support our Village? You don't need to join a committee or commit to regular times. We hope you might pledge some time to support our various initiatives and societies.  We know that many of you would love to be more connected to the Village. We believe this model suits people from different backgrounds who want to offer different commitment levels to volunteering, rather than feeling overwhelmed by regular lengthy meetings with a lot of people you don't know!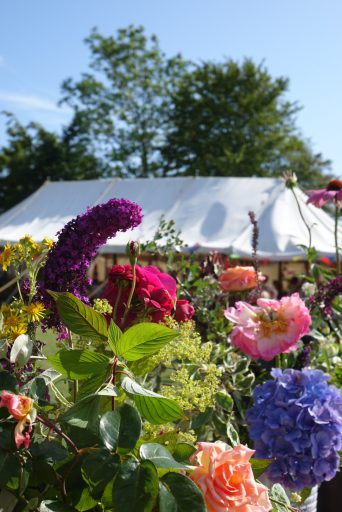 Simply pledge some time at the Big Village Picnic and let us know what you are interested in. We will match village projects and activities with your skills, interests and time commitment. This makes so much sense as having larger numbers of volunteers and supporters, who give smaller amounts of volunteering time can add up to considerable support for our wonderful village. So many of you stepped up during the pandemic we know that there is a real willingness to get involved and help out if you can.
We hope you will come along and say "hello!" the days of saying hello to strangers in the street, on a bus, or at the park have sadly pretty much become a thing of the past. Most of us have spent too much time on our own over the past two years or so and now is the moment to get back out there; make connections with people young and old. We are so looking forward to seeing you.