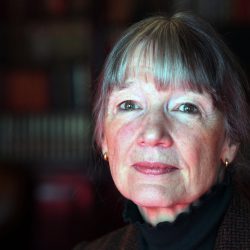 This month we have been reading Anne Tyler's 'Redhead by the Side of the Road', one of the shorter and more bittersweet of her novels but, nevertheless, quietly profound and longlisted for the Booker Prize.
It is about Micah Mortimer:- a man in his 40s, the youngest of a chaotic family of sisters; the only one to go to university and then have a professional job, but who opted out of corporate life and now scrapes a living running a one-man computer repair business and caretaking his block of flats, giving him free accommodation. His family regard him with affectionate bewilderment.

He has rebelled against the chaos of his upbringing by being obsessively tidy, living a pared-down life governed by strict routines. He has a daily early-morning run, then cleans his house by a strict timetable – Monday the floors, Tuesday the cupboards, etc. Then he goes out to work. His flat is adequate for his needs but spartan, his clothes are serviceable but rather shabby and he has poor posture. He has a woman friend, Cass, a teacher, but their relationship has settled into a routine which allows them their own space and independence. He has no male friends but he is a kindly man, tolerant of the elderly ladies who call him out to sort out their computers. He has written a book the title of which sums up their level of ignorance – 'First Plug it In'.
Then one day this over-ordered life is overturned when the teenage son of an old girlfriend turns up on his doorstep having run away from home and claiming to be his son. At the same time Cass tells him she faces eviction from her flat, clearly expecting him to reassure her that she can stay with him if necessary. Instead he misreads the situation and suggests that she could sleep in her car; unsurprisingly she leaves him.
The novel shows how Micah's world falls apart and he eventually sorts out the situation with the runaway boy but in doing so realises his own loneliness and the lack of meaning in his world. An attempt to build bridges with Cass is again mismanaged and only makes things worse. Tyler strips away the protective layers he has built around himself until we can see him for the vulnerable man he is and, to a certain extent, so can he. Then Tyler is able to end the novel on a note of h
The joy of the novel is Tyler's usual finely-attuned ear for dialogue and family interactions, whether it is the petulant teenager with his over-protective mother or his own large and noisy family of sisters who affectionately tease him as a 'fussbudget'. One of the highlights of the book is the account of lunch with all his sisters and their families – noisy, bustling, chaotic but full of warmth.
The redhead of the title is not as one may think, a literal redhead but a fire-hydrant he passes every day on his morning run, perhaps a symbol of his narrow, constrained life. This is a very appropriate lockdown novel – tender, warm but deceptively simple and easy to read, delving beneath the surface of experience: it can perhaps fairly be compared with a Jane Austen novel. We recommend the author to those who are unfamiliar with her books – her novels are always a delight.
Next month's novel: not yet decided.
Heather Mines