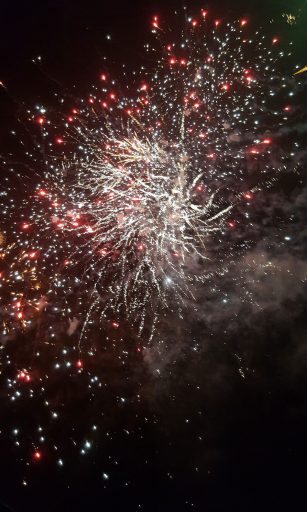 We are delighted to announce that the Village Firework Display will go ahead on Saturday 7th November at 8.30 pm, weather permitting. Whilst we can't hold a public event, as we simply wouldn't be able to apply workable social distancing measures, there will be a firework display for us all to enjoy from the comfort of our own homes and gardens.
The fireworks have been bought and paid for by two major donors and other local individuals. As in previous years, this will be a fundraising event. Our aim is to use this opportunity to raise money for some of our local voluntary organisations whose events and income streams have been adversely affected by the pandemic.
Any donations will be equally distributed between all the Village organisations that ordinarily would have put on fundraising events of their own. Namely – the Village Hall, the Playing Field, the Variety Club, the Horticultural Society, the New Village Hall and The Church. You have been more than generous in previous years supporting our various village events and we thank you for your ongoing generosity.
The Village Fayre Committee will be the umbrella organisation administering your donations and distributing them as detailed. If you would like to make a donation you can do so in a number of ways.
You can donate cash or make out a cheque to "Hadlow Down Village Fayre" and deliver it to Graham Terry, Treasurer, Hadlow Down Village Fayre, Stockland Oast, Stockland Lane. TN22 4EA Please mark your envelope as "Fireworks Display."
You can donate cash or make out a cheque to "Hadlow Down Village Fayre" and mark the envelope 'Hadlow Down Fireworks Display' and leave it at St Mark's C of E School.
You can make a bank transfer direct to Hadlow Down Village Fayre at CAF Bank,
Hadlow Down Village Fayre Account no: 00020094 Sort Code: 40-52-40 please use "Fireworks Display" as your reference.
This year more than ever we need something to look forward to, our thanks to our donors for making it possible to go ahead with our annual spectacle. The Playing Field Committee have asked residents kindly not to gather at the Playing Field, as there will be no torchlight procession, bonfire or refreshments. We want local people to view and enjoy the display from the comfort of their own homes and we stress that there will be no public event.
*The Village Fayre will publish details of total donations received and subsequent grants made in the January 2021 issue of the Parish Magazine.
**A copy of the Village Fayre Accounts can be obtained from Graham Terry grahamterry77@hotmail.com  the annual accounts will be published at the Village Associations AGM in February 2021.