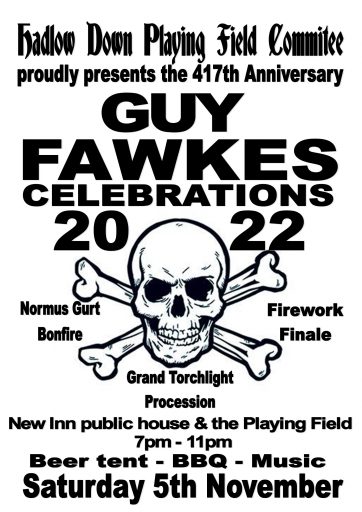 The Hadlow Down Playing Field Committee look forward to welcoming the villagers of Hadlow Down to the annual Bonfire and Fireworks display on November 5th.
Delicious Flapjacks, Toffee Apples, Hot Chocolate ,Tea and Coffee will be available alongside Cider , Sussex Ale, Mulled Wine ,Red and White Wine , soft drinks and traditional hot dogs and burgers .
Your safety is paramount at this event , so please dress accordingly with stout and waterproof footwear ( as the field will be very muddy ) and warm  clothing especially hats and gloves. Please do pay attention to The Marshalls at the event ,as they are there to ensure your safety.
Children under 16 years of age must be very closely supervised by a responsible adult at ALL times especially in the vicinity of the Firesite.
We do not allow Dogs or any Pets at this event ,so  please keep them safely indoors.
Parking : Please respect your neighbours , especially those neighbouring the Playing Field and where at all possible, leave your cars at home and walk down to The Playing Field.
Wilderness Wood have very kindly offered their parking at the wood for residents and guests alike.
Timings :
6.00pm    Gates open to public at the playing field for refreshments *
7.15pm    Torch Lit Procession starts to form up outside The New Inn
7.30pm    Procession departs New Inn and proceeds along short route to Playing Field.
7.45pm    The Traditional chant will be recited and torches are cast onto the Bonfire.
8.45pm    The Spectacular Firework Finale will commence.(will not exceed 10 mins)
11.00pm   Bar closes and site is secured for the night.
*This is different from what has been published in the official Bonfire Programme which says 7 p.m – our error – sorry . Feel free to come down to the Playing Field from 6 p.m
We look forward to seeing you all and please do give generously on the night as this is a fundraising event for the maintenance  and upkeep of The Playing Field.
Please keep safe !