We've been thoroughly enjoying the lovely weather – and rattling along with making shingles for the new wood-house – coming this summer opposite the café and the new Under Oak shelter with UCTC student. The Upper Paddock has now been re-seeded so fingers crossed for the right combination of rain and sunshine so that the grass grows fast.
E-mail contact:  when we arrived, Chris and AnneYarrow passed on a number of e-mail contacts for people who live in the village. We have used these e-mails to let people know about what's going on in the wood. In order to comply with the new data laws, we will not contact you by e-mail again unless you actively sign-up for it, so either, e-mail us at emilyanddan@wildernesswood.org or come into the café and complete one of the membership forms – ask the café staff.   And/or you can follow us on face-book or Instagram: facebook @wildernesswoodsussex and instagram @wildernesswoodsussex 
Coming Up: 
– Saturday 2nd June – wedding – woodland closed for the day
– Sunday 17th June – Father's Day – forest school activities, shingle-making and BBQ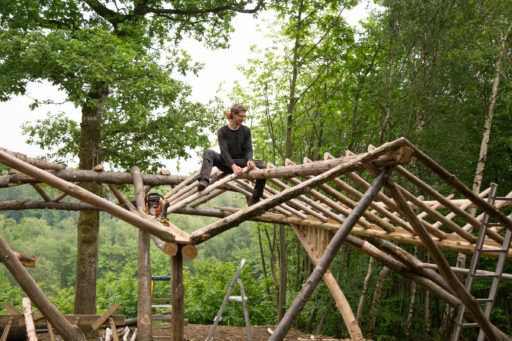 – Saturday 7th July – Stewardship Saturday – join the team for the day and help us look after and improve the wood.  We meet at 10am in front of the Meeting House.  Lunch provided.  All ages, skill-levels and fitness levels welcome.
– Saturday 21st July – wedding – woodland closed for the day
– Monday 23rd July-Friday 27th July – working-with-wood-week – contact Emily if you're interested in getting involved with building, cooking, or putting on a play.  All ages welcome.
– Saturday August 4th – Stewardship Saturday
– Saturday August 11th – wedding – woodland closed for the day