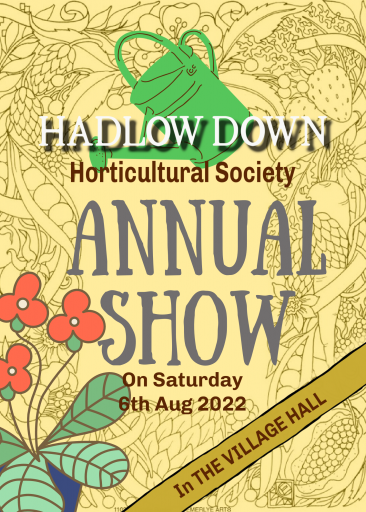 The Horticultural Society are pleased to announce the schedule for this year's Annual Show. All villagers are welcome to enter, there are lots of categories choose from. Here are all the details you will need to take part.
Entry forms and fees to be handed in BEFORE Thursday 6pm 4th August 2022
All fruits, flowers and vegetables, except decorative classes must have been grown in the exhibitor's own ground.
Only one exhibit per class may be entered by any one exhibitor.
Exhibitors shall, on request, allow members of the Show Committee to visit the place where their exhibits were grown.
All varieties of vegetables, fruit and flowers should be named if possible.
Staging to be carried out between 8.30am and 10.00am on the Show Morning. Judges start Judging at 10.00am
Any exhibit not according to schedule shall be disqualified.
The Society does not accept responsibility for any loss or damage to any exhibit.
PRIZE GIVING 3.30pm. NO EXHIBITS TO BE REMOVED BEFORE 4pm.
ALL CUPS AND TROPHIES MUST BE RETURNED TO ANY MEMBER OF THE COMMITTEE BY 4 July 2022
Kathy Cracknell 830616, Penny Eliot 830006, Barbara Ball, Carol Franks, Janet Tourell, Roberta Smythe.
ENTRIES FORMS MUST BE HANDED TO A COMMITTEE MEMBER BY THURSDAY 6pm 4 August EVENING OR THEY WILL BE TREATED AS LATE ENTRIES.
SECTION 1 – Vegetables                                         Please see Rule 2   
A garden trug of mixed vegetables (excluding herbs) to be judged on contents, quality and general presentation. Maximum length of trug 51cm.
Four potatoes – one variety – White
Four potatoes – one variety – coloured
Three onions
Three red onions
Four shallots – pickling or large
Three bulbs garlic
Four carrots – one variety
Six runner beans
Six French beans
Three leaves, spinach, kale or chard
Two heads lettuce
Six cherry type tomatoes (or small plum)
Four standard tomatoes
Four tomatoes of different varieties.
Three beetroots
Three courgettes not over 16cm
Two cucumbers
A misshapen vegetable
Two of any vegetable not covered in schedule
Five culinary herbs, named – one stem of each only – small pots provided.
STORMONT CHALLENGE TROPHY CLASS 1
ROWLAND GORRINGE CUP FOR HIGHEST POINTS IN CLASSES 2 – 21
SECTION 2 – Fruit                                                   Please see Rule 2
Ten blueberries
Ten soft fruit
Any other fruit (one)
EWART CHALLENGE CUP FOR HIGHEST TOTAL POINTS CLASSES 30-32
SECTION 3 – Flowers                                              Please see Rule 2
(Vases provided in classes 40 -49)
Single rose – one specimen bloom
Cluster-flowered rose – one stem
Flowering shrub – three stems, one variety excluding hydrangeas
Five sweet peas – one or more varieties
Three stems dahlias – one or more varieties
Vase of herbaceous perennials one or more varieties, four stems only
Vase of annuals – one or more varieties, four stems only
Lilies- one stem
One Spike e.g. delphinium, gladioli, hollyhock etc
Fuchsias – two stems, one variety
Three heads hydrangeas – lace cap type. Please bring your own container
Three heads hydrangeas – mop head type. Please bring your own container
Three heads hydrangeas – Paniculata. Please bring your own container
INDOOR flowering pot plant; pot not more than 21cm. See rule 2.
ROPNER ROSE BOWL FOR BEST ROSE CLASSES 40-41
HARRISON CHALLENGE CUP HIGHEST TOTAL POINTS CLASSES 40-52
SECTION 4 – Domestic Classes
PLEASE PLACE ON YOUR OWN PLATE, WE WILL SUPPLY A COVER.
59. Four fresh eggs in any container
A loaf of bread.
My favourite chocolate cake.
A Vegetable flan
5 Savoury biscuits
An Individual pudding
Jar of marmalade
Jar of relish
Jar of jam
Small jar of jelly – fruit or herb
A small bottle of spiced Rum
3 Fairy Cakes Men only
SLEE MEMORIAL CUP FOR HIGHEST TOTAL POINTS IN CLASSES 60-69
BARBARA BALL CUP FOR THE BEST ENTRY IN CLASS 70
Advanced Warning. In 2023 a small bottle of Sloe Gin
SECTION 5 – Flower arranging.
"BONFIRE" up to 30cm
An Arrangement in a Tea Cup.
POLLOCK MEMORIAL CUP FOR BEST EXHIBIT CLASSES 80-81
SECTION 6 – Craft
A bag made with Ties
A homemade gift made for no more than £2.50. (Please give costings.)
A homemade key fob
A small animal made from felting technique. Up to 15cm
"I made this during Lockdown"
Article in wood, ceramic or metal
HADLOW DOWN FOR CUP THE BEST EXHIBIT IN CLASSES 90-95
SECTION 7 – Art, Photography and Poetry
(Items not previously exhibited at this show)
A portrait in any medium. (Art)
A landscape in any medium (Art)
A still life in any medium (Art)
Photograph – "Village Wild Life"
Photograph – "Picnic"
Photograph – "I spy something beginning with O"
All photographs to be unmounted, unframed and no larger than 13×18 cm
"When We Were Young" (A4 paper, name on back)
An Adult Nursery Rhyme. (A4 paper, name on back)
VICE-PRESIDENT'S TROPHY FOR THE BEST EXHIBIT IN 100-102
ANNIVERSARY CUP FOR BEST EXHIBIT 103-105
STOCKLAND CUP FOR POETRY CLASS 107-108
HINTS FOR  EXHIBITORS
Potatoes:                Tubers should be washed with a sponge.
Onions & Shallots:  Do not over-skin. Tops should be tied and roots trimmed.
Beet & Carrots:      Tops cut off leaving approx 3"of leaf stalks, which should be neatly tied.
Cabbage:                3" of stalk remaining.
Beans:                    Cut from vine with scissors with some stalk attached.
Courgette:              Do not cut main fruit to conform to size requirement.
Lettuce:                  Roots should be washed and wrapped in moist tissue, inserted into a plastic bag and neatly tied.
Tomatoes:              Aim for uniform set of fruits with small eye and firm fresh calyx.
Cucumbers:           Should be well matched, with a well developed stalk end.
Garlic:                    Leave 1" of dried stem.  Stage bulbs as complete specimens.
Soft Fruit:              Should be exhibited with stalks
Preserves:              Fully-dated label on lower half of jar. Jars to be full, with screw tops.