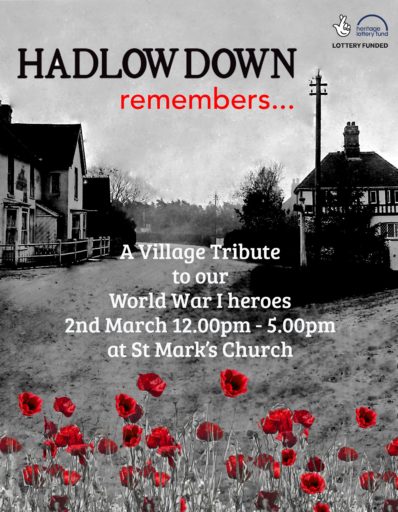 Please join us for an afternoon celebrating and remembering all who served and were
touched by the Great War.
The Church will be filled with project work by the children and community of St Mark's.
This was a project which was created by the Heritage Lottery Fund (and awarded by the National Lottery) focusing on the First World War "Then And Now, Remembering our Heroes"
This will be exhibited alongside images, historical documents and other ephemera provided by you, the members of our community.
This is a wonderful opportunity for us all to remember and celebrate the huge sacrifice that our families and communities made. To that end, if you have any photographs, letters, stories or objects that you would be prepared to exhibit we would really like to hear from you.
Both men and women served their country during world war 1, not only by serving on the front line but also by bringing in the harvest, feeding the troops, nursing the injured and sick and keeping the wheels ofindustry turning. If you would like to submit anything or require any further information, then
please contact:
Vicky Richards on 01825 830256
vicky@coachmans.org
A celebratory tea will be served from 3.00pm, which will include, tea, coffee, sandwiches and cakes. Live music and songs of the time will be played throughout the afternoon and some of the children will be joining us to share with us what they have learned. We also hope that we will have enough contributions of photographs from you to create a photo montage of our community's family members from that time which will be a very touching tribute.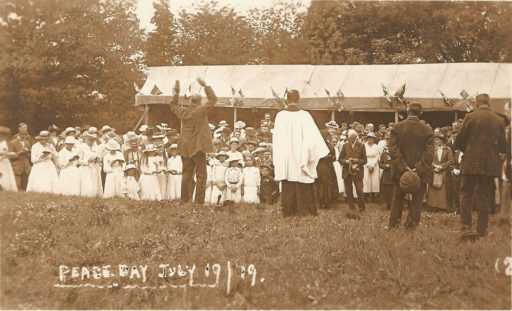 Image from the Village Archive depicting Peace Day, July 1919 at The Grange
A project brought to the community by the PCC of Buxted and Hadlow Down