As the Covid 19 pandemic has scuppered plans for our Summer Celebrations, it seemed now would be the perfect time to look back on our historic 2019 Village Fayre.

The Sussex Village of Hadlow Down has been holding summer celebratory events for well over one hundred years. The Village Fayre and Dog Show in its current format has been going since 2003 and is held at the Playing Field.
Previously it was held at The Grange and in the early days in the Churchyard. Nigel Harrison, born in 1947, remembers the Church Fete at the Grange had stalls down one side of the lawn and games down the other. The children would perform country dancing and there was always a fancy dress competition.
Last Summer we celebrated 100 years since the Village Peace Day celebration held in July 1919. There was a very moving moment when we recreated the Village Photograph 100 years to the day later.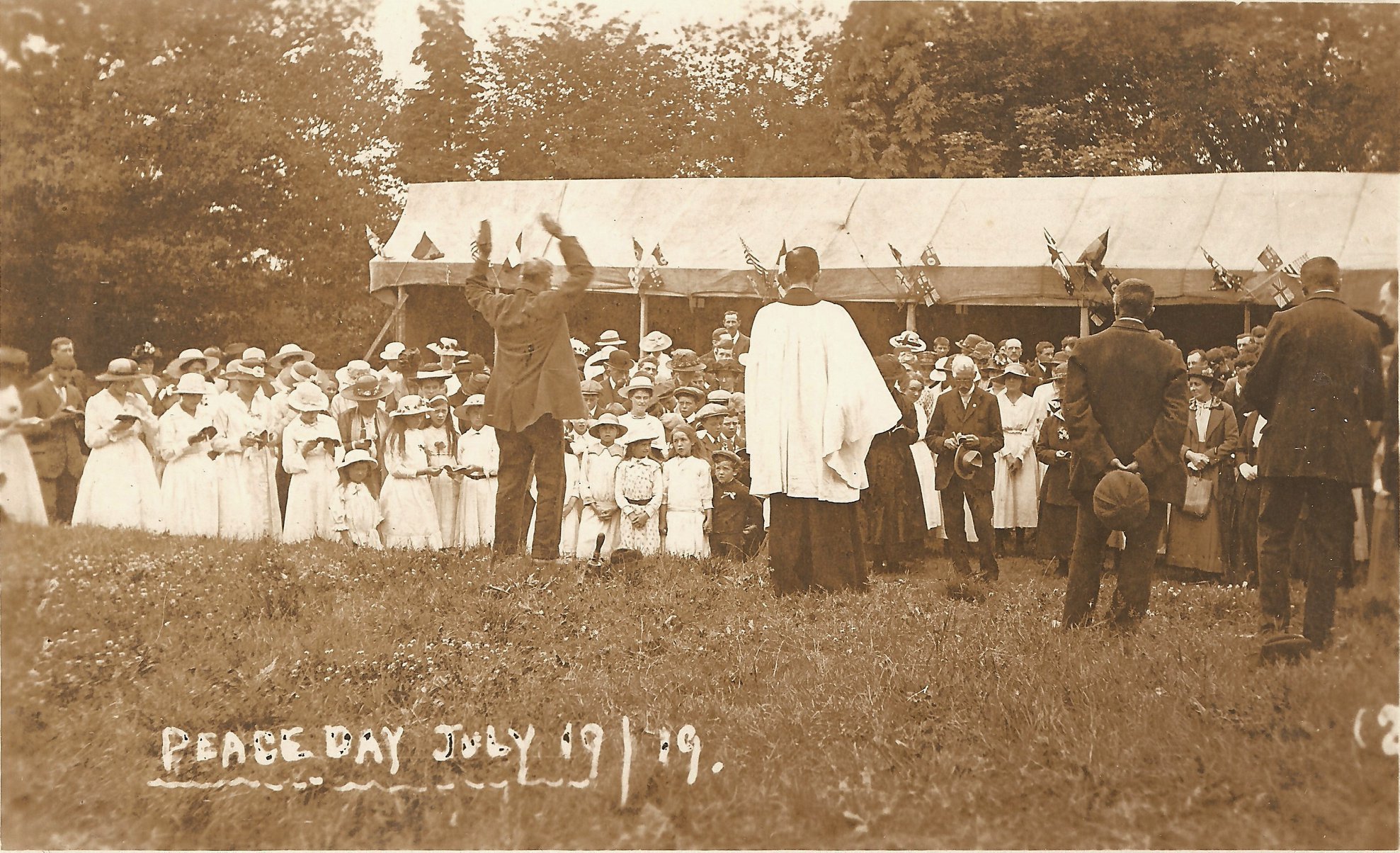 When Vicky Richards asked Lally and me to support the "Hadlow Down Remembers" exhibition, we jumped at the chance. Our research led to us discover a great deal about the history of the village. The Village Trust kindly gave us access to their archives and that is how we discovered the Peace Day photographs taken at the Grange on 19th July 1919. As soon as we saw them we knew that the Village Fayre was the perfect event to commemorate that original celebration.
Peace Day 1919
To celebrate and mark the end of World War 1, a Bank Holiday was declared in Britain, having been decided by a committee chaired by Lord Curzon, foreign secretary.
'We, considering that, with a view to the more wide-spread and general celebration of the Conclusion of Peace, it is desirable that Saturday, the Nineteenth day of July, should be observed as a Bank Holiday and as a Public Holiday throughout the United Kingdom'
Thanks to the wonderful research carried out by Colin Cracknell, we have the details of an article published in the Sussex Agricultural Express, 18th July 1919 detailing the Peace Day Party planned in our village.
A programme for all residing in Hadlow Down who served, or are serving for H.M Forces; plus their wives.
2.15 – Thanksgiving Service
2.30 – Sports for children and adults
4.30 – Tea for children
5.15 – Tea for adults
Sports, dancing, fancy dress will follow until 9.30. Then we hope to have a torchlight procession and conclude with a bonfire and firework display
Proceedings to be held at Hadlow Grange kindly lent by Mr C Lang Huggins. J.P.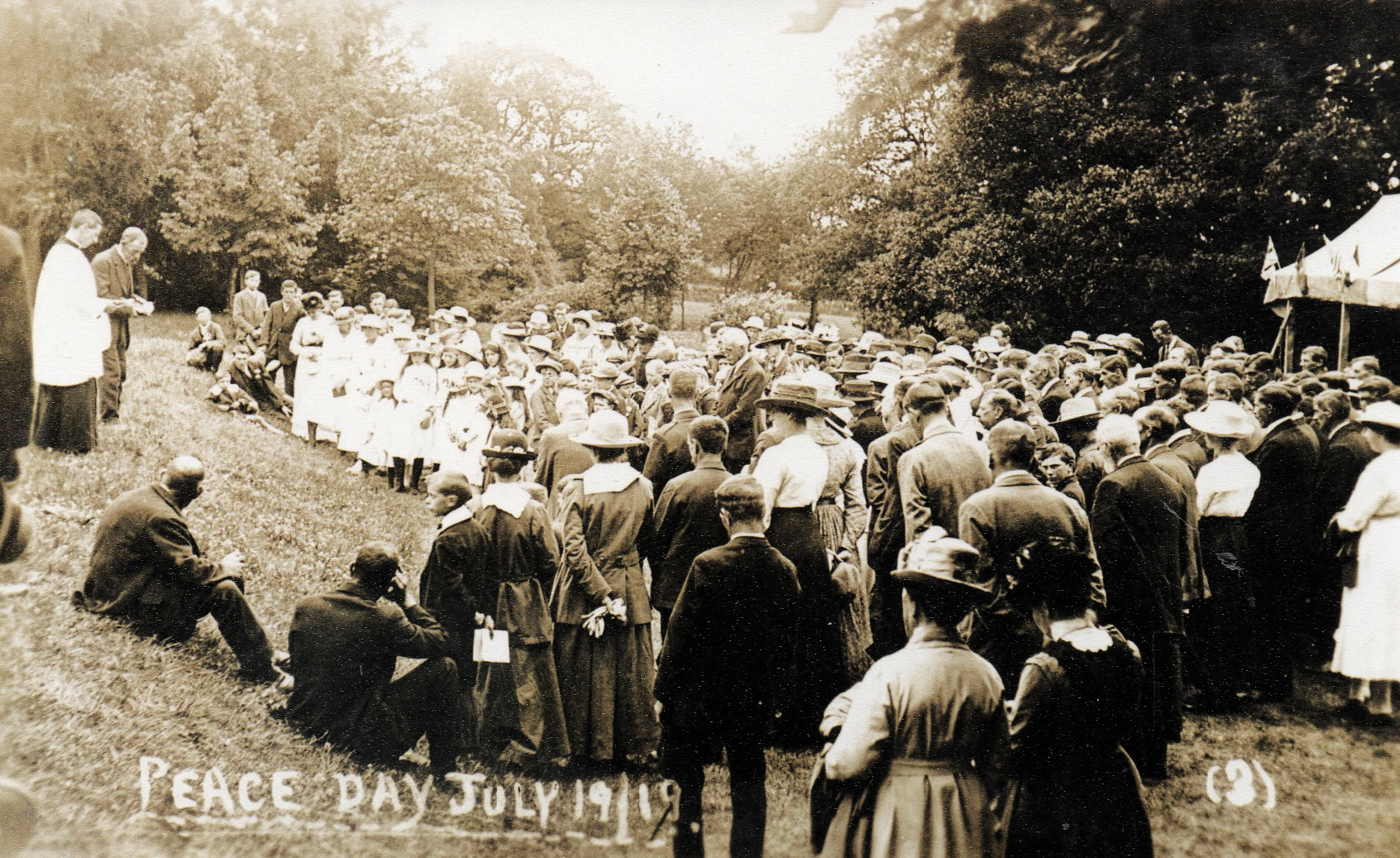 The similarity between the two events held 100 years apart is amazing to us, we didn't see this article until after the 2019 event. In fact it seems the 1919 celebration was an amalgamation of all our favourite village events – the fayre, big village party and the bonfire celebrations.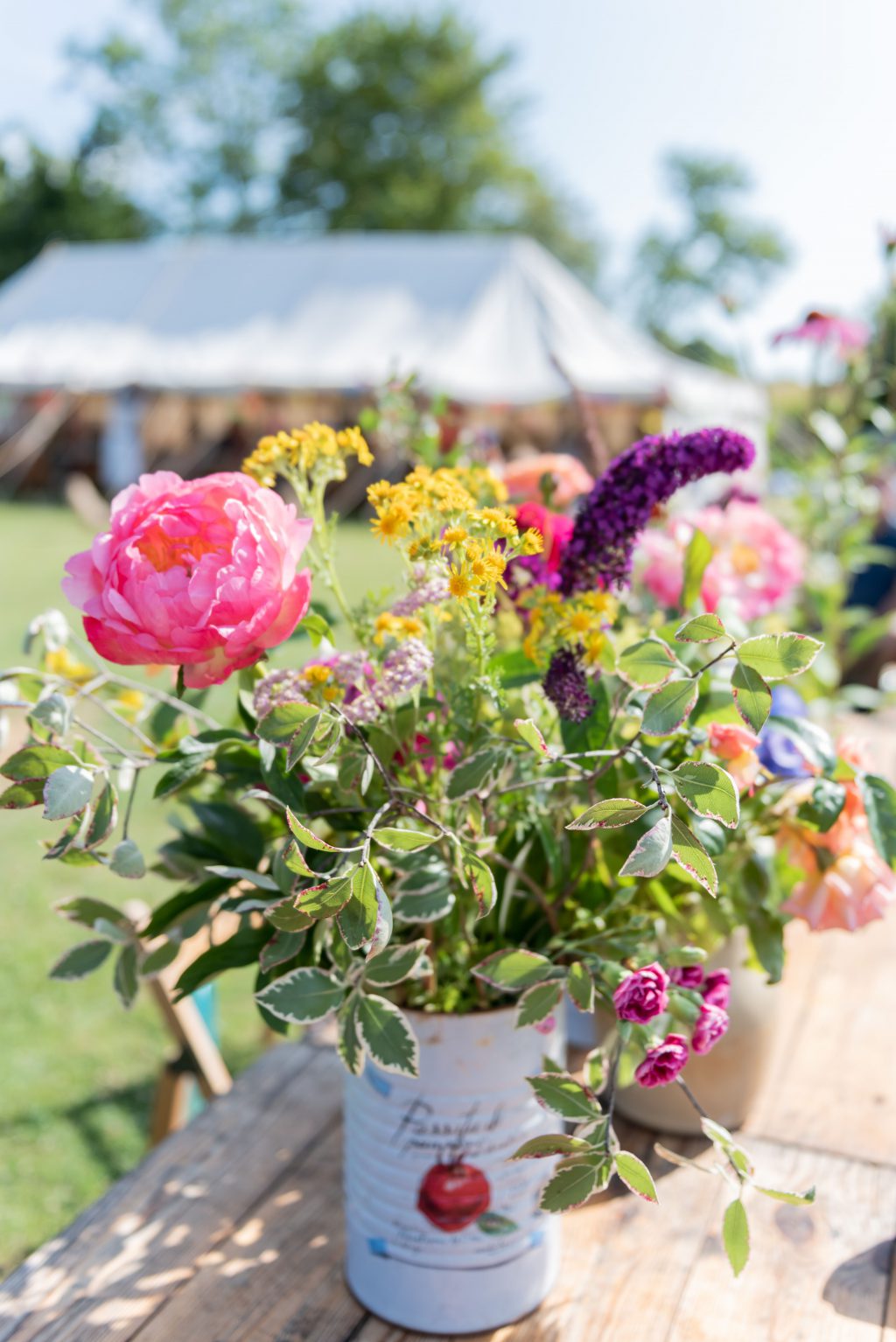 The Village Fayre is held on the Playing Field. It is a glorious spot perched as we are on a ridge that forms part of the High Weald. The view from the tea tent is sublime as you gaze beyond the cricket pavilion to Ashdown Forest beyond. We are lucky enough to own our own vintage canvas marquees, these are the centre piece of the event. They house our glorious tea tent and bar respectively.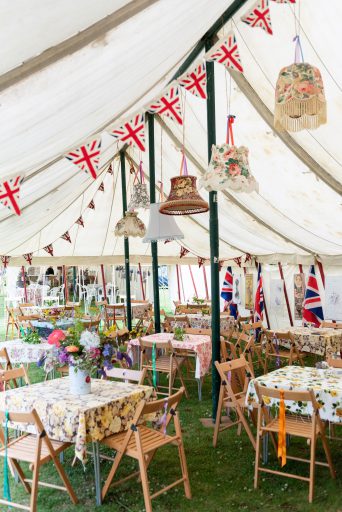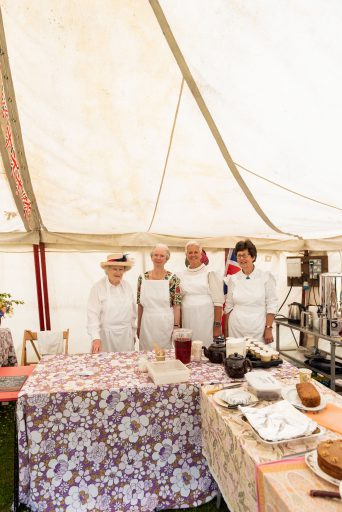 Over the years Lally and I have massed a trove of props and vintage fabrics that we use to decorate the structures. Super-size lampshades hang from the rafter poles and the tables are decorated with tea cups planted up with summer bedding plants. The Committee agrees a theme for the event at the beginning of the year and then Lally and I set about sourcing new props to support the new theme. We trawl charity shops, flea markets and the local recycling centres! It is such a thrill when we uncover a new "treasure".
The event radiates out from the tea tent and bar, a temporary circular encampment that encloses the main arena. The arena is edged with hay bales for seating and demarked with metres and metres of homemade bunting. Sitting here you might catch a glimpse of fabric that was a dress in a previous life or an offcut from a child's bedroom curtains.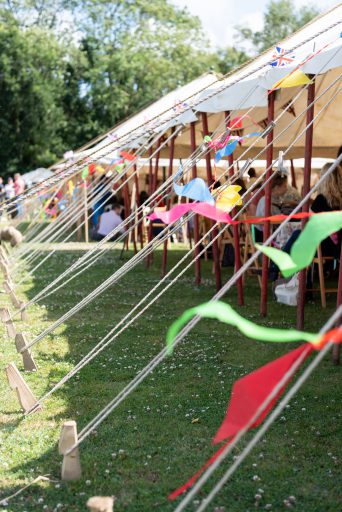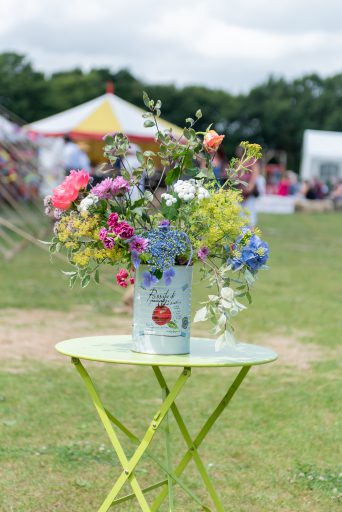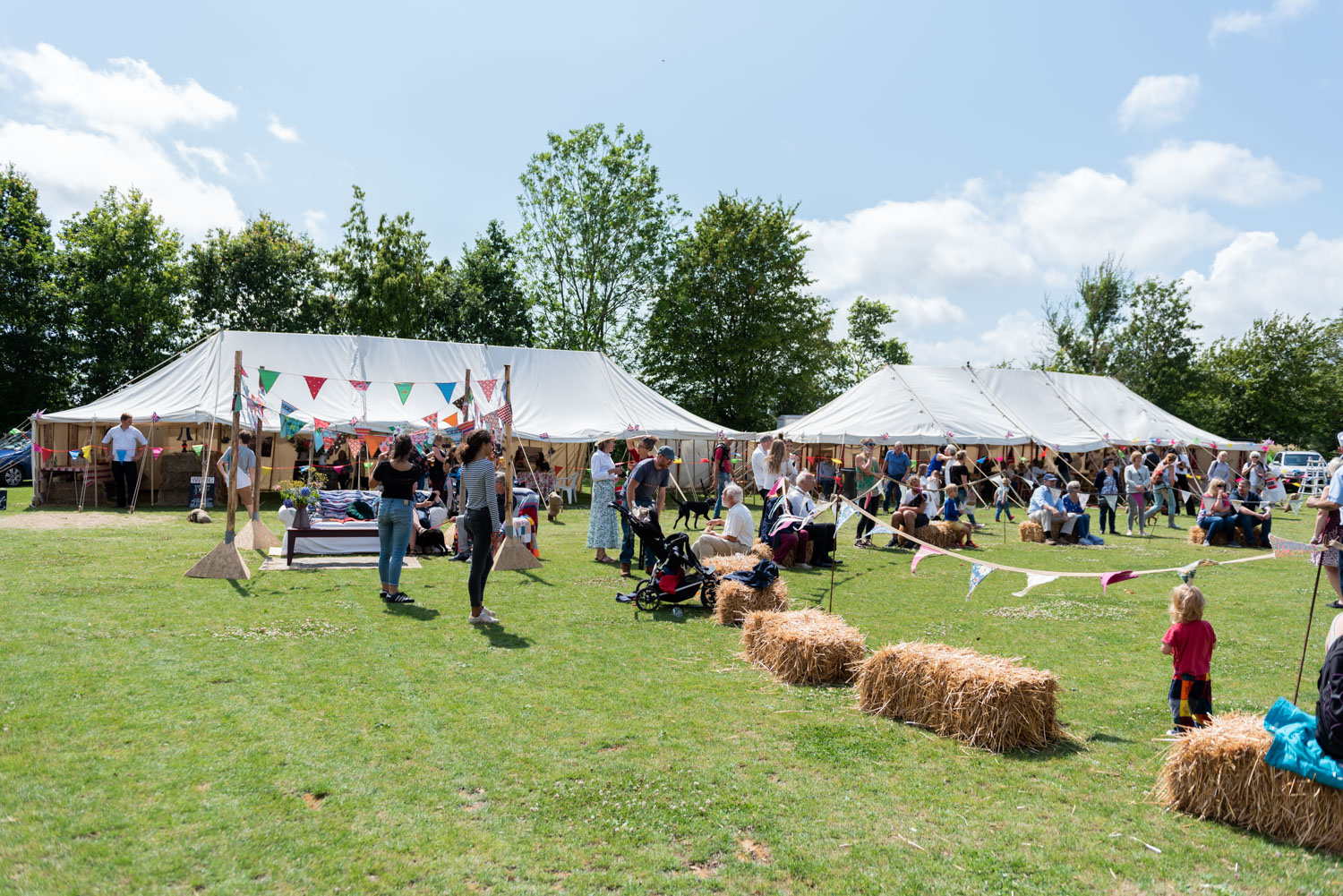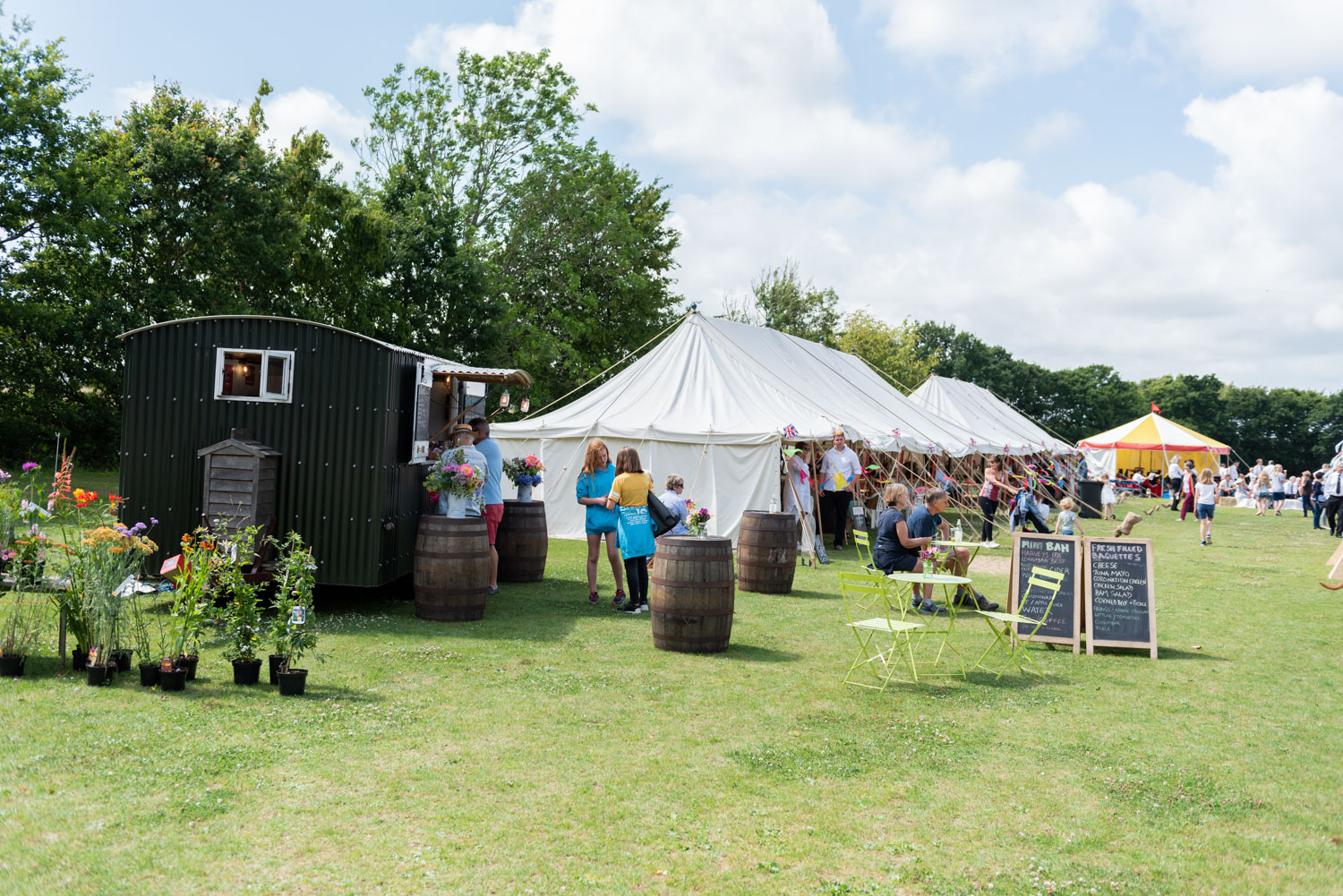 Sussex Beer is served from a vintage Shepherds Hut next to the main marquees and we love to create beautiful seating areas for relaxing in. We like to build sofas from hay bales and last year we went the whole hog and set up an outdoor sitting room with sofa, armchair and coffee table, our friends at Wilderness Wood made us bespoke chestnut poles and stands to that we could swag bunting overhead.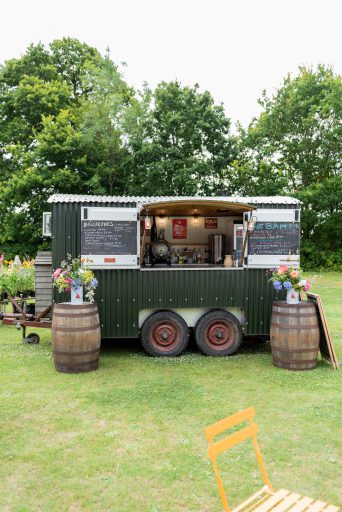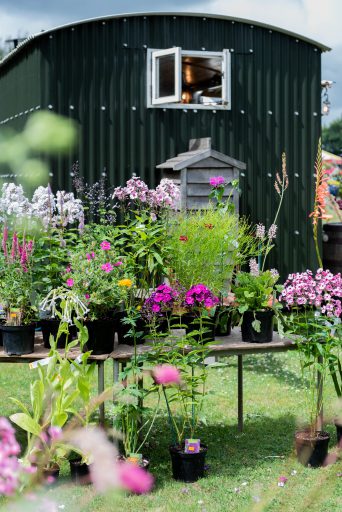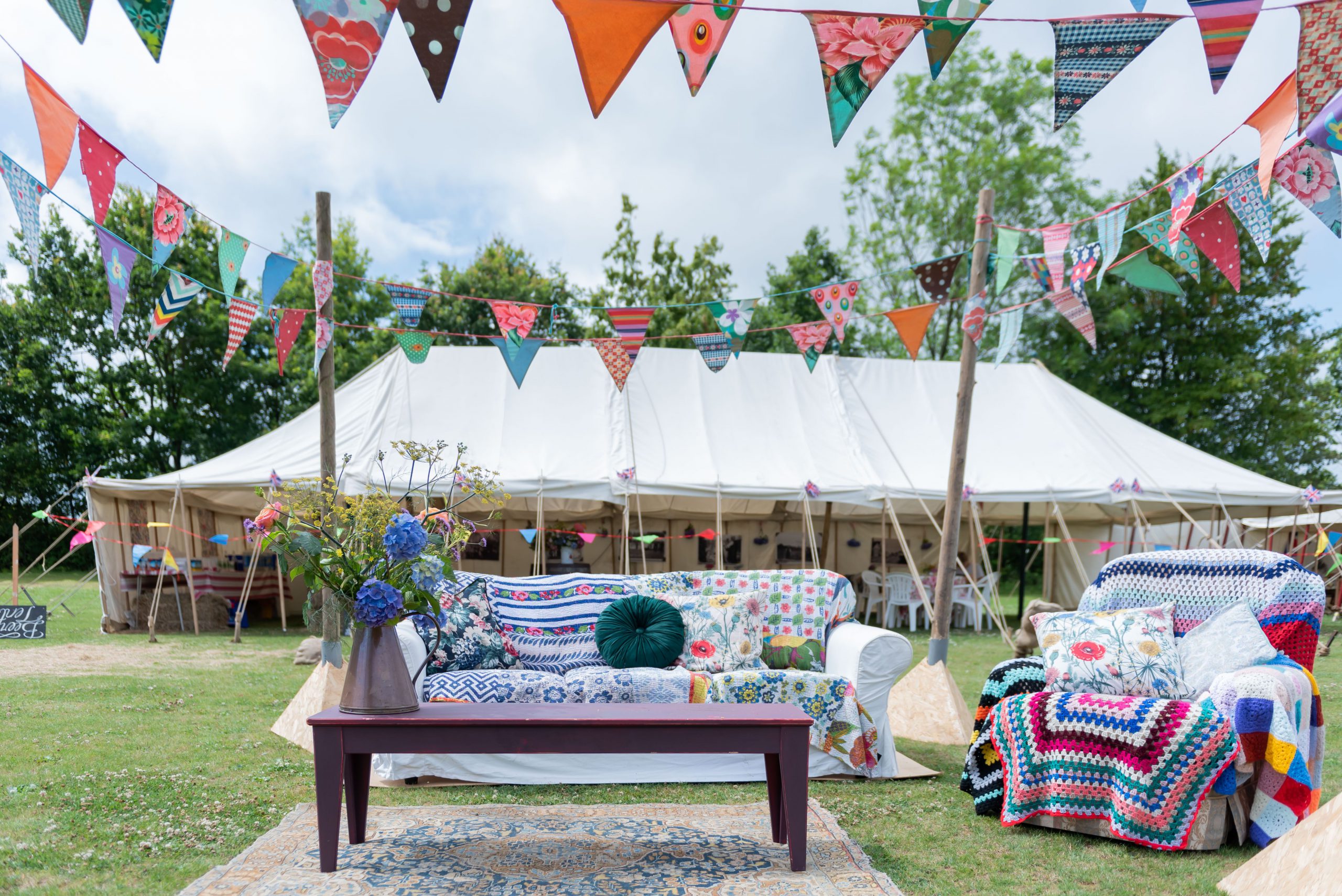 The stalls are all housed in smaller gazebos, and are comprised of other village committees and societies plus hand-picked local businesses. We give a prize for the best dressed stall, fortunately everyone is wonderfully enthusiastic about supporting our event themes! The stalls are grouped in categories, we have an area dedicated to local food producers. Then crafts and artists. We like to support the other Village societies. The School and Church are also key to the event.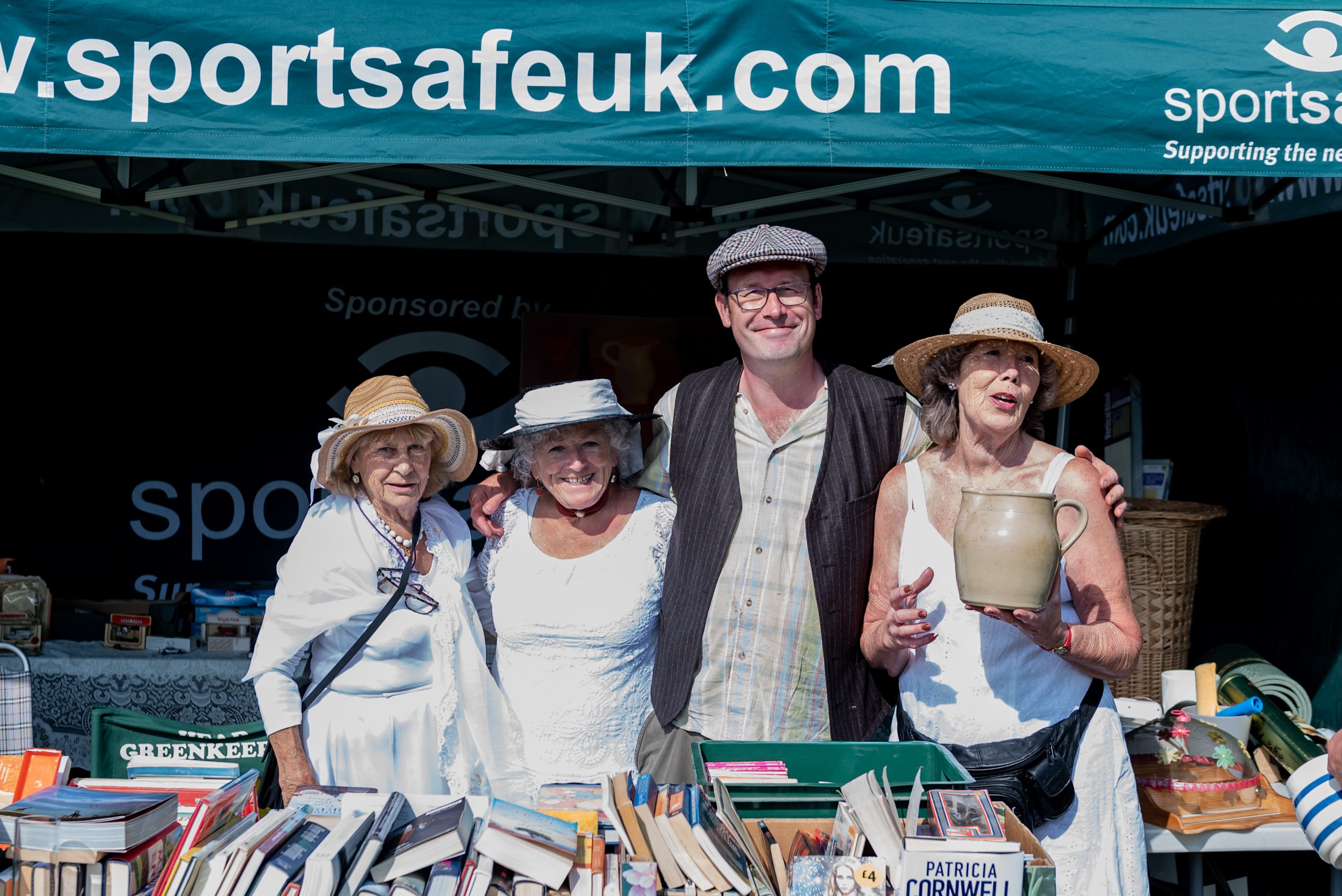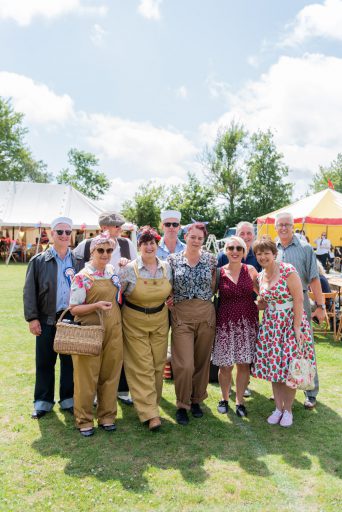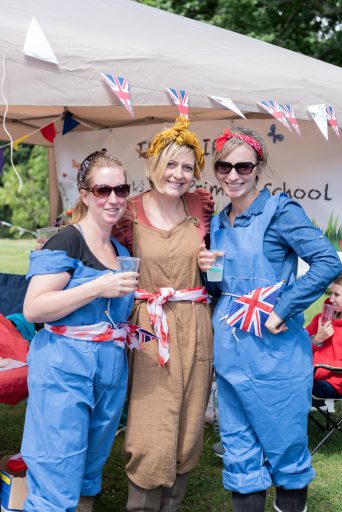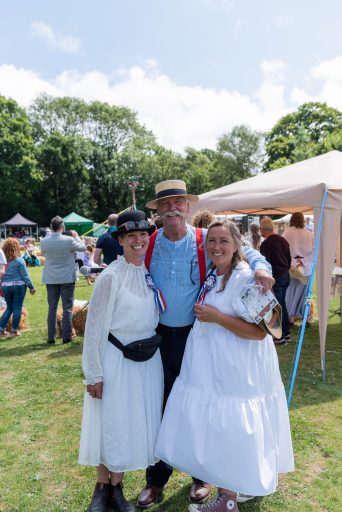 The 2019 event was opened by Father David Milnes who gave this lovely blessing specially written for the occasion…
Father of all, remember your holy promise, and look with love on all your people, living and departed. On this day we especially ask that you would hold for ever all who suffered during the First World War, those who returned scarred by warfare, those who waited anxiously at home, those who returned wounded,  and disillusioned, those who mourned and those whose communities were diminished and suffered loss. Remember too those who acted with kindly compassion, those who risked their own lives for their comrades, and those who in the aftermath of war, worked tirelessly for a more peaceful world. And as you remember them, remember us, O Lord; grant us peace in our time and a longing for the day when people of every language and nation will be brought into the unity of Christ's kingdom.
We have tried to recreate that special day 100 years ago when this village came together to mark the end of war and not only that have we gathered here 100 years after that proclamation and hope for peace which is still ours. We ask your blessing on this day and all people of peace and unity – The peace of God which passes all understanding. Keep your hearts and minds in the knowledge and love of God.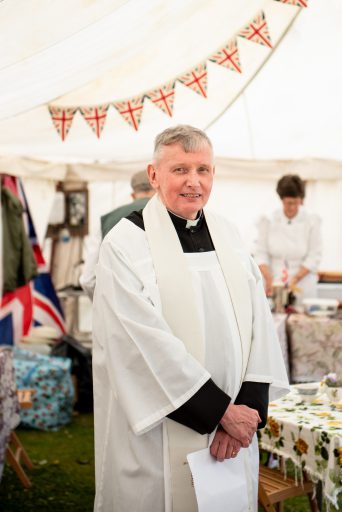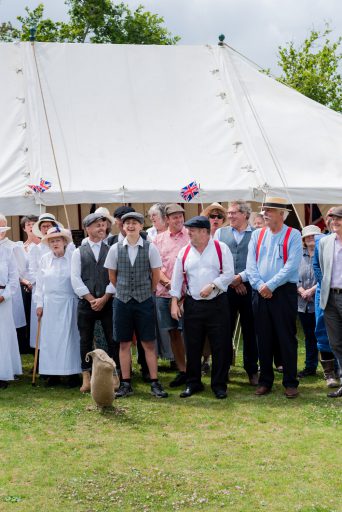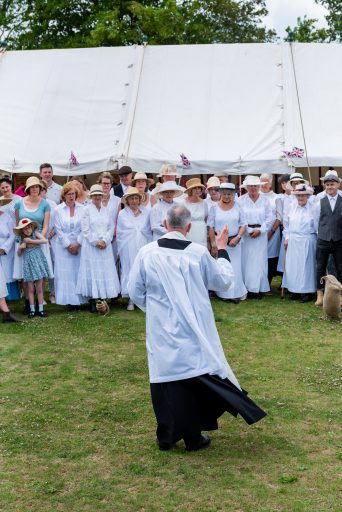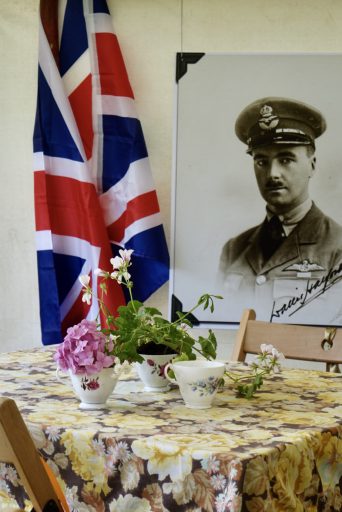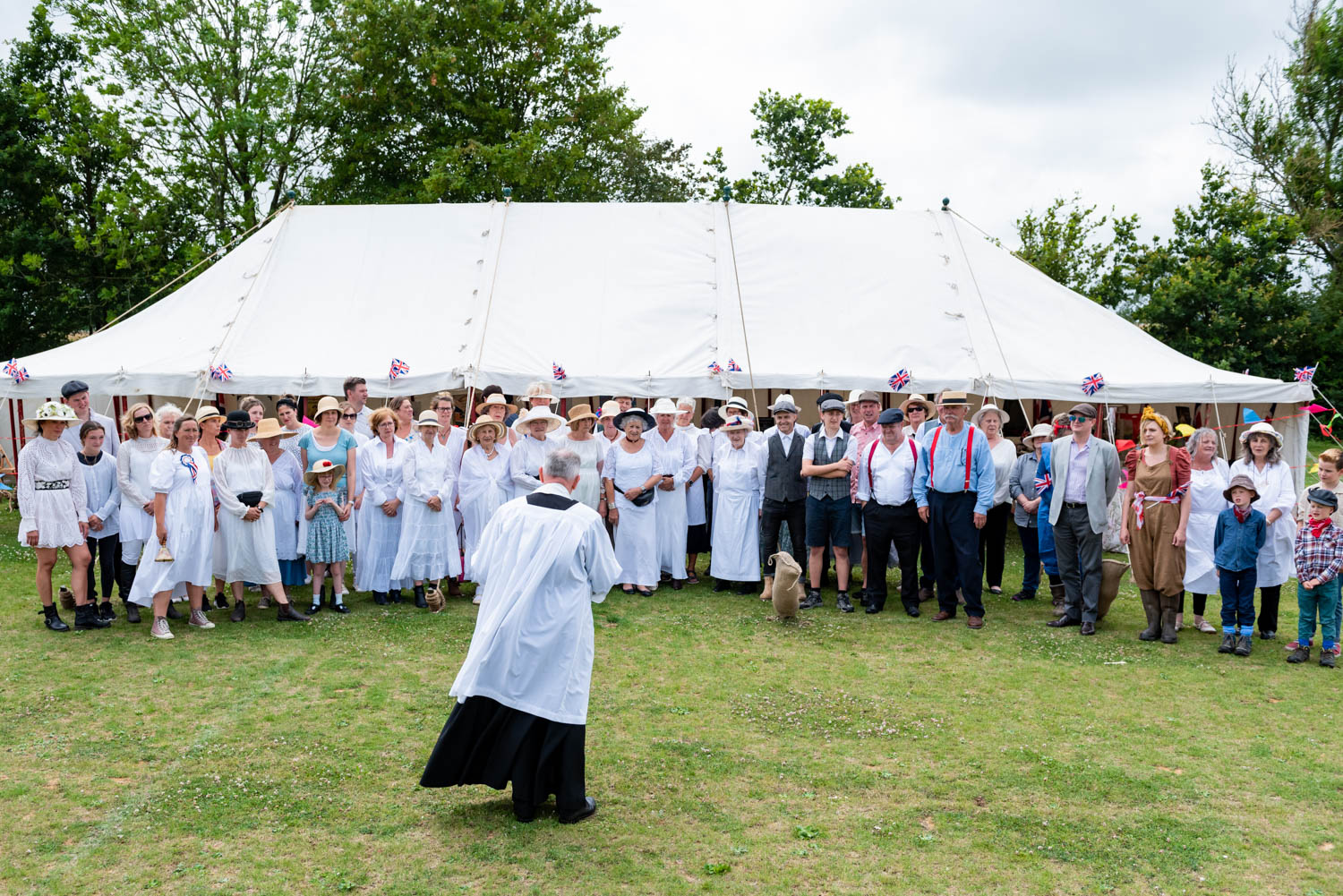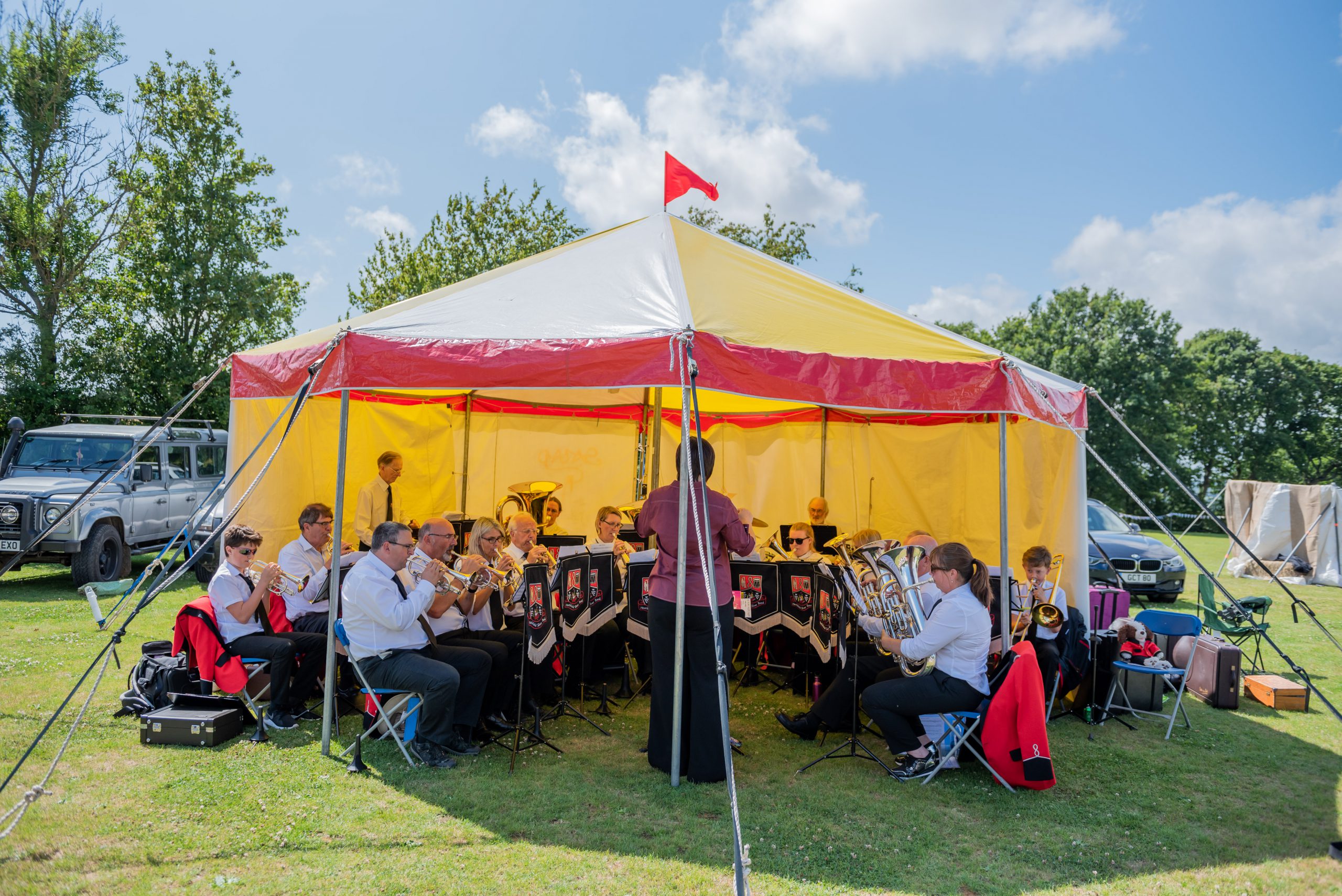 The Heathfield band then struck up and accompanied as we sang the National anthem followed by a particularly poignant rendition of Jerusalem, sung simply by the village unacompanied.
Then the main arena events followed, wonderfully steered by our friend Bob Lake.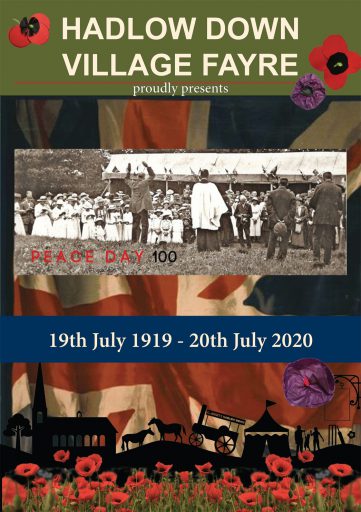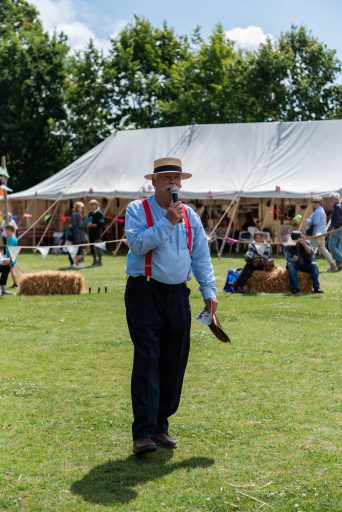 Programme of events 2019
1.00 pm –  Village Photograph taken in front of Tea Tent, Blessing by Father David Milnes, Heathfield Silver Band will play National Anthem
1.15 pm – Heathfield Silver Band will perform in the Bandstand
1.30 pm – Dog Show Agility qualifying in Dog Show Ring, please register to enter
1.45 pm – The School will perform a traditional Maypole Dance in the main Arena
2.00 pm – Sports Day in the Main Arena
                                Father and Child Sack Race
                                Mother and Child 3 legged Race
                                Egg and Spoon Race
                                Egg Hatching
2.00 pm – Ukulele Duo perform in the Pimms and Prosecco Bar
2.30 pm – Homefront Lindyhop perform in Main Arena
3.00 pm – Heathfield Silver Band Perform in the Bandstand
3.30 pm – Dog Show in Main Arena
4.30 pm – Tug O War
4.50 pm – Grand Prize Draw
5.00 pm – Fayre Closes
It was a glorious afternoon…The Village came out in force and many took the trouble to dress up.  Such a very proud and poignant day for for all involved, perhaps in 100 years our photograph will be inspiring the next generations to do the same!
I was very touched to receive some lovely and thought provoking feedback from one of our regular stall holders, Judith.
"It looked so pretty with those tall jars of flowers every where, and flowers round tent poles and pretty table cloths etc. Without fail the community enjoyed themselves you could see evidence of that. To say nothing of peoples enthusiastic comments as to me as they browsed.
Members of my family ( London based ) are involved in research in mental health…town versus country.  It seems very evident that Community Events such as yesterday are vital. Yet men and women are so busy these days that they/we say we don't have time to help. But there is a great feel good factor in helping isn't there? Also joining in with the great body of mankind is so good for us……"
——-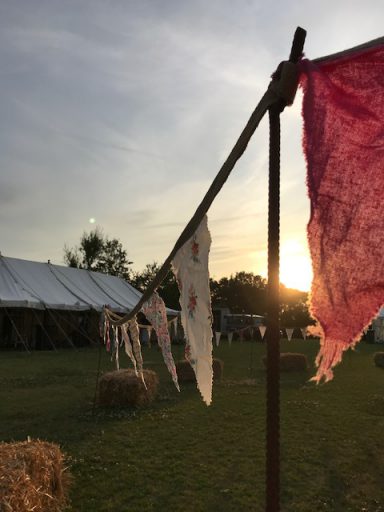 My hearty thanks must  go to the Committee members, past and present. They are wonderful selfless unsung heroes, every single one of them.
All the societies and committees in the village have supported the event over the years, Particularly the Playing Field, Variety Club and Horticultural Society. To the inimitable Bob Lake who MC's for us with so much charm and humour. His dog show commentary lives long in the memory!
Whilst it is becoming harder to find volunteers to help put on these traditional events and trickier still to meet all the new rules and regulations involved, I firmly believe in the power of sharing wonderful moments with the whole Community. Preserving our local traditions, observing the seasons as they change and holding fast to our regional peculiarities.
Its about making our Village celebrations even more colourful, thrilling, entertaining and memorable. The rewards are many, not least seeing our family, friends and neighbours participation and enthusiasm.
It is a real privilege to be part of something bigger than ourselves, to connect with one another and take a day to be with the whole village. There is a palpable sense of place, of who we are and how unique we are. We are so proud to have played our part in this time old tradition where all are welcome to join in and the currency is joy!
Sarah Prall