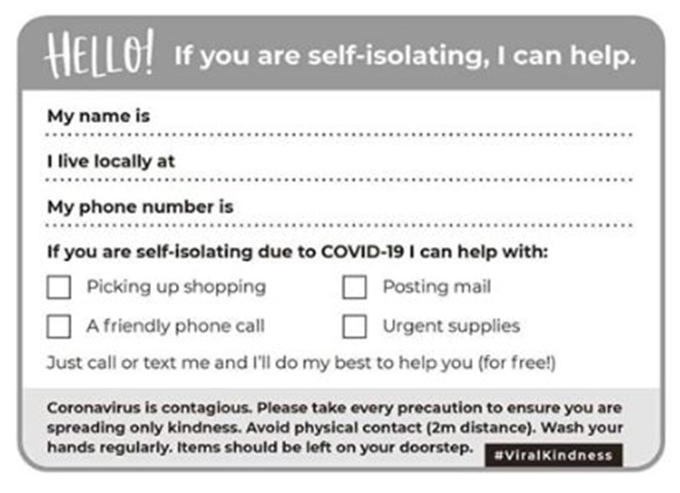 From posts on the Hadlow Down Facebook Group page there seems to be increasing support for a community led initiative to help the aged and more vulnerable in our community regarding the Covid-19 Virus and 'self isolation'.
Self isolation to as great an extent as possible is recommended by Hadlow Down Neighbourhood Watch.
.
Hadlow Down Neighbourhood Watch have initially agreed to collect, collate and match lists of people that we are advised are vulnerable and another of people who are willing to help. Details of vulnerable people can be forwarded to us by themselves or via a third party, as long as they have given their consent.
The Hadlow Down Neighbourhood Watch Coordinator's contact details are as follows:
webadmin@hadlowdown.com  or 01825 830661
Other named 'helpers' will be joining us over the next few days and details of how communication between those wanting help and those wanting to help will take place are currently being finalised.

This is a 'one-off' exercise for the duration of any contagion period associated with the Covid-19 Virus and all information sent from vulnerable people and helpers will be destroyed once the problem is over.

The Help could include:
Collecting shopping, medication or other essential items,
posting letters, supplying information by telephone etc. Just chatting on the 'phone or anything else that helps the vulnerable to 'self isolate'..
Please send all information including Names, Telephone numbers and email addresses(where applicable) to :
webadmin@hadlowdown.com or 01825830661
in the first instance.
Hadlow Down Neighbourhood Watch is taking this opportunity to warn older and more vulnerable people not to hand money or bank or credit card details for shopping etc. to anyone before checking with the Neighbourhood Watch Coordinater that it is safe to do so.
Please watch this space for updates and more detailed information.
(It is also worth pointing out that for those who can use the internet the hours during which supermarkets can deliver have been extended, our wonderful local postmen will always take letters as well as deliver them if they are left visible protruding from letterbox and we believe all pharmacies have a duty to deliver where & when needed?)